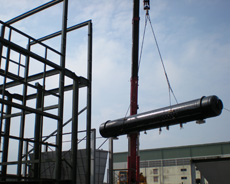 Mackenzie Industries is specialized in customized steam boiler firing biomass waste, oil, gas as well as waste heat in the case of industrial heat recovery steam generator (HRSG).
Our boiler are cater for various industry like oil palm, wood, paper, oil refinery, sugar refinery, power plant and general industry. We are able to customize our engineering design to suit customers' requirement in term of pressure, temperature, size, usage and fuel specification.
Our boiler design can be package with auxiliary equipment like air pre-heater, boiler economizer, fuel handling system, various type of stoker grate for different type of fuel.
In our continuing improvement program to increased in boiler overall efficiency, we offer better option to our customer by including full automation using PLC & SCADA system.
Our strength lies in our capability to offer total solution to customer for product availability, reliability and especially in the combustion of unconventional fuel. It is a challenge as combustion is more of an art rather than science. It can only be accomplished with accumulated past experience in the field of combustion knowhow.
The Company has a Licensing Agreement with German technology holder, ERK Eckrohrkessel GmbH, to produce the full range of ERK design boiler products. ERK is a reputed 100-year old boiler design and engineering company based in Germany. It has over 1,000 units of boiler design to its credit.